At The Garland we offer a variety of Hollywood activities and things to do to make your LA vacation memorable. Take a dip in our pool, relax at our bar with a cocktail in hand, join us for a morning Yoga at Beverly Park, or explore the neighborhood with our Urban walk. No matter how you choose to spend your time at The Garland, we have a little something for everyone.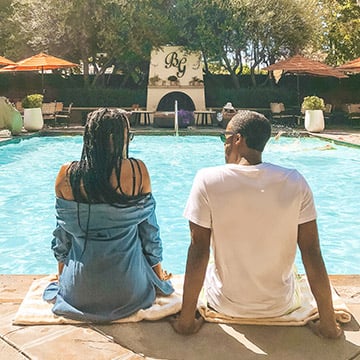 The Pool
Cool off and enjoy the California sunshine during your stay. The Pool is the perfect place to relax with a cocktail from The Lobby Bar and your favorite beach read, or spend some family time away from the hustle and bustle of Los Angeles. With a spacious deck space including a dining pavilion and adult-only & family jacuzzis, it's a dreamy retro-inspired space that's sure to please. The Pool is also home to dive-in movies, where kids of all ages can enjoy a classic flick starting at sundown daily in the summer, and on weekends year-round.
Open Daily, 6AM-10PM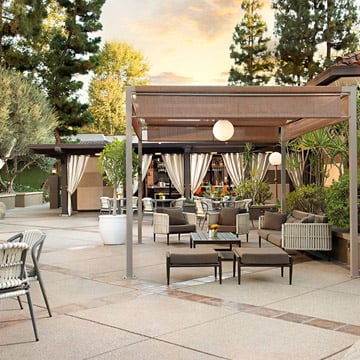 The Courtyard
Adjacent to The Lobby and El Dorado building, The Courtyard is a place to connect and unwind during your stay. Pick up a board game from The Lobby, challenge a friend to a game of Foosball, or simply sit back in a shaded cabana and chat with friends or family. Home to our 'Taste of LA Taco Cart' all summer long and a live guitarist on Thursdays and Fridays, it's an outdoor oasis where you can relax, recharge, or send those few emails that absolutely cannot wait until after your vacation:
Open Daily, Foosball after 10AM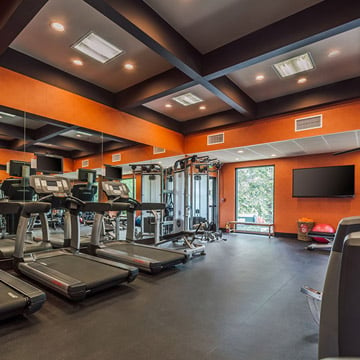 The Gym
Fitness can be fun too, right? Stay in shape for your next beach day in a a well-equipped fitness center that is available 24/7. Treadmills, ellipticals, rowers, and free weights are available in The Gym whenever you have time to work in a quick set. Looking for a more personalized experience? The Garland offers access to top-quality personal trainers who can be booked through our concierge at The Store.
Open Daily, 24/7
Seasonal Programming
There's always something happening at The Garland! Try your new favorite wine at 'Taste of The Store' or enjoy an oversized game of Jenga during our 'Courtyard Games'. Headed to The Front Yard? Plan your visit around bottomless mimosas or rosé during our 'Weekend Brunch' or daily 'Rosé All Day'