A retro-chic
Hollywood Boutique
Hotel
Time has only improved this iconic Hollywood boutique hotel in the heart of LA. In 1970, legendary Hollywood actress Beverly Garland, and her husband Fillmore Crank, discovered this bucolic seven-acre property and knew they wanted to create a hideaway for friends, family and guests. Together with Las Vegas hotel impresario, John Kell Houssels Jr., they decided to build one of the most stunning hotels in North Hollywood, which would serve as an oasis within the high-energy excitement of Los Angeles.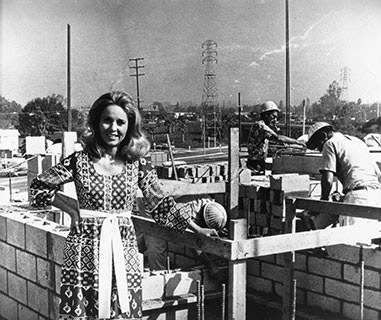 Who owns the Garland?
In 2000, the Beverly Garland hotel was handed down to their son James, whose unpretentious, sophisticated style influenced the expansion of the hotel into a true resort. Chic, relaxed and centrally located, guests here are close to Hollywood landmarks, popular attractions and world-renowned business epicenters, all while being ensconced within the urban paradise the Garland family created. Today, The Garland has been re-imagined and renovated with a hip new restaurant, cool décor, manicured outdoor parks, and fresh ideas. Check in and check out one of the most glamorous hotels near Universal Studios Hollywood.